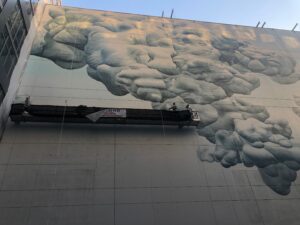 Concord Painting Company's family-owned commercial painting business specializing in industrial painting in NYC has been in business for 70 years. Commercial Painting New York has changed dramatically since that time, however, the Concord Painting philosophy and work ethic haven't. Their philosophy and work ethic have only gotten better over the years. 
Concord's painting Manhattan office deals with a host of varied projects on an annual basis. As a result, these large projects make us one of the most long-lived and successful painting companies in Manhattan, NYC, New York.
Commercial Painting Company NY
The chances are that when you walk the streets of Manhattan, you have seen many of our NYC industrial painting jobs. In addition, it is a matter of pride that we keep New York looking clean and smart for locals and visitors alike, not to mention safer for the pedestrians below. As a matter of fact, our restoration work keeps old buildings from shedding bricks which are very dangerous to those below on the sidewalk. 
These pictures of New York commercial painting jobs give you an idea of the scope of our work. In the event that you have an exterior painting need in New York, then contact Concord at 212-382-1100 and find out how expert professional industrial steel structure painting is done.
See more about protective exterior painting coatings at the SSPC website.
Let Concord Painting undertake all your challenging industrial assignments on Long Island too. Our painters appreciate the importance of abiding by safety rules and regulations. Accordingly, we frequently paint using scaffolding and rigging.
Why Our Customers Depend on Us
Our customers prize our strong work ethic and high level of professionalism. We strive to obtain complete satisfaction with our work. You'll notice the scope and depth of some of our past assignments by perusing our website gallery carefully!