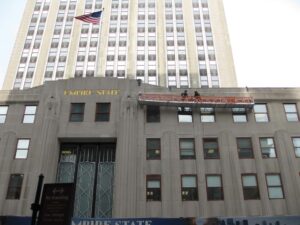 In a metropolis like New York City, there are many buildings of great stature and architectural merit. When these buildings age, they need to be renovated with plans for façade painting in NY. Plans that Landmark Preservationists welcome and civil engineers will approve.
Concord Painting understands the importance of preserving the integrity and beauty of architecturally, historically, and culturally significant buildings in New York City and its surrounding suburbs. Buildings such as these represent who we are as a city. 
Proper restoration will preserve if not improve the value of Landmark buildings and tourist attractions. More information about NYC's Landmarks Preservation Foundation is on their website.
Restoration is the key to preserving these beautiful edifices; hence you cannot leave the work to any old company. NY architecture experts know to trust Concord Painting when it comes to restoring and exterior painting. This 70-year-old family firm has been an influential part of many major restoration projects in Brooklyn and Manhattan over the last decade.
Façade Painting NY is a highly valued skill. Concord Painting has teams of professionally trained craftsmen, painters, and restorers. Concord's teams understand the intricacies and importance of this work.  As we know, the NYC skyline is a mix of modern architecture and buildings from an earlier era. Concord's façade painting on Prince Street in Soho is a jewel in the city's crown. Therefore, Concord Painting, Inc. is the first port-of-call for façade restoration work. With this in mind, NYC attracts many tourists, many of which come to admire the skyline and the city's diverse and beautiful architecture.