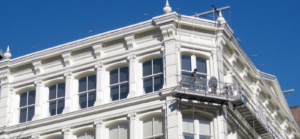 Façade Restoration in NYC, New York, has gained traction in the last decade with a welcome trend towards conservation and restoration rather than tearing down the old. Whenever a building of architectural merit is renovated, often the entire building's entire innards are gutted, and a facade restoration project is initiated to the acclaim of neighbors and local conservationists. Manhattan has many beautiful buildings, and Concord Painting is proud to have been involved in exterior restoration on several key buildings from offices downtown to residential businesses uptown.  
When a city preserves its architectural landmarks, it feels a particular pride. Architectural history is essential to a city such as New York City.
Mother Nature has no mercy on buildings, especially the old buildings. After many years of being abused by the weather, these structures need some TLC. Concord specializes in the necessary steps required for the preservation of these façades.
Concord Painting recognizes the value of NYC of Façade restoration. Although modern architecture has its place in the New York City skyline, we believe it should not be at the expense of existing historically and architecturally valuable façades like our work at Prince Street in Soho and a stunning turn of the century classic New York facade at Astor Place. If you are in doubt about the viability of an exterior restoration for your building, give us a call, and we can advise you on the proper way to tackle the work.