​​
Commercial Painting Company NY
If you need an
Industrial Painting Contractor
in Manhattan, New York, give Concord Painting a call. Concord Painting has the longevity and experience to do the very best and most efficient
Industrial Painting Contractor NYC
job possible. There are many commercial painting contractors in New York, but few of them have 70 years in business, and fewer can offer an entire package for your project.  Whether you need a special rigging crew, in-depth knowledge of
Local Law 11
, or an excellent team of industrial painting contractors in the area, Concord will cover all of this for you.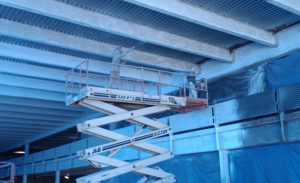 We service all five boroughs of New York City, not just Manhattan but all of NYC. You can see our work from Brooklyn to Queens, industrial buildings in the Bronx, office buildings in Astor Place, and even the Empire State Building and onto Long Island.  When you look at our portfolio as an industrial painting contractor in New York NYC, all our jobs, large or small, boast attention to detail and efficiency second to none so consider Concord Painting as your commercial painting contractor.
Industrial Painting Contractor New York
Let Concord Painting undertake all of your challenging, industrial painting assignments. Our painters value the importance of abiding by all safety rules and regulations. We frequently paint using scaffolding and rigging to get the job done safely and done to perfection.
Our customers depend on us and prize our strong work ethic and high level of professionalism as we strive to obtain complete satisfaction with all of our work.